Lahinch Beach
For current information on bathing water quality and related information, please refer to www.beaches.ie
Lahinch is a sandy beach, subject to strong waves and strong currents. Activities include surfing, kite surfing, wind surfing, horse riding and angling. The use of personal watercraft and fast power craft is prohibited.
Please bring your litter home at the end of your visit to Lahinch.
Under the Litter Pollution Acts 1997-2003, dog-owners are required to clean up after their animals if it fouls in a public place such as public roads, footpaths, parks and beaches. Failure to do so can result in an on-the-spot fine of €150.
Beach bye-laws are in place with horse riding and dogs prohibited between 11:00 a.m. and 6:00 p.m. during the summer season.
Motorised watercraft, surfing and the use of canoes and kayaks is prohibited in close proximity to swimmers.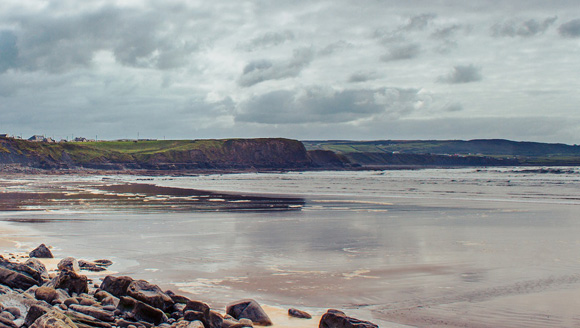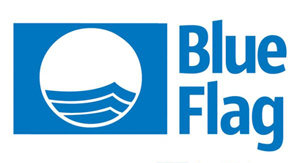 Location
Lahinch Beach
Dough
Lahinch
County Clare

Lifeguarded hours
Amenities
Award: Blue Flag

Beach wheelchair

Specially adapted beach Hippocampe chairs are available at the Ben's Surf School.The chairs with specially-designed wheels are free of charge. Users will require a carer or personal assistance to operate them. To book please contact Ben's Surf School on 086 844 8622. 

Disability accessible parking

Dogs allowed on lead

No dogs allowed on the beach between 11 a.m. and 6 p.m. during the summer season. Before 11 a.m. and after 6 p.m. dogs are allowed but must be on a lead.
Map of amenities
Click on the image to view the map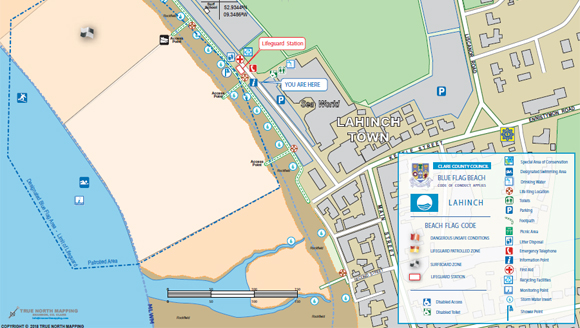 Map of location
Longitude: -9.347862 Latitude: 52.933662
Back to top
Location
Lahinch Beach
Dough
Lahinch
Clare

Lifeguarded hours
This is just for feedback on our web site, not comments or questions about our services.
To tell us about anything else, go to our contact us pages.