From a Distance Concerts Series for Cultural Companion
15 November 2020
5 Virtual Concerts, 5 Genres over 5 Sundays; the "From a Distance Concert Series for Cultural Companions" is being streamed live from the Ennis Cathedral from 3pm - 4pm.
MC for the virtual concerts is Nigel Bridge and the Line up is: 
15th November: Philomena and Michael O'Brien - Country Music
22nd November: Monica Morgan Kearney - Songs Old & New
29th November: The Villas - Rock and Roll Music
6th December: Socks in the Frying Pan - Trad Music
13th December: Helen Houlihan - Classical Music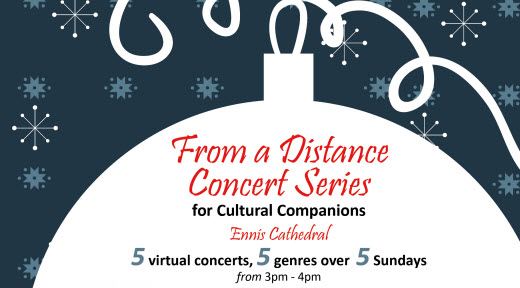 The Cultural Companions is an Age & Opportunity initiative designed to link older people interested in arts and culture through a network so they can attend events together as a group.
Become a Member: 
If this sounds like something you might like to join then please contact
Helen Moloney in Clare Co. Council:Tel: 065 6846240 or Email: hmoloney@clarecoco.ie
Page last updated: 16/11/20
Back to top
This is just for feedback on our web site, not comments or questions about our services.
To tell us about anything else, go to our contact us pages.