Success for Shannon Town in Pride of Place Competition
20 November 2018
County Clare continued its impressive track record of success in the IPB Pride of Place Competition at the 16th annual awards ceremony held at Cork City Hall on Saturday night (17 November 2018).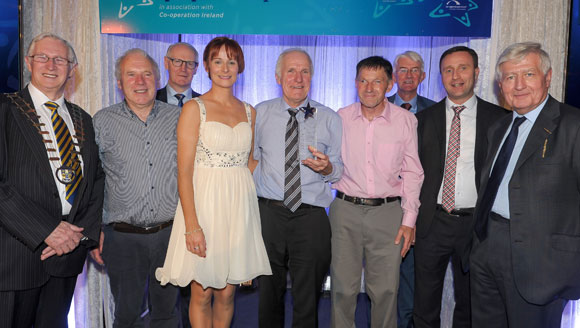 Shannon was named overall winner of Category 5 for population centres of over 5,000 people with Buncrana (Donegal) and Youghal (Cork) named Runners Up.
Shannon was among four communities nominated by Clare County Council to participate in this year's competition. Clare was also represented by Spanish Point (Islands & Coastal Communities), Quin Village Tidy Towns (Population Category 3 - population from 1,000 to 2,000) and the Castle Bog Walk project in Kilkishen (Community Wellbeing Initiative). There was further success for Clare on the night with Quin and Spanish Point being named Runners Up in their respective categories.
Mayor of Clare Cllr. Michael Begley joined more than 800 members of communities from all over Ireland at the annual awards ceremony. He has congratulated Shannon on following in the footsteps of Doonbeg and Miltown Malbay who have also been named category winners in recent years.
"This award win is a wonderful example of what can be achieved when people come together for the benefit of their local community," he added.
Mr. Begley said the Pride of Place judges remarked on the excellent welcome and presentation they received during their visit to Shannon Town which demonstrated "the huge range of voluntary activities in this town and in particular highlighted the many amenities of the town and the exceptional level of volunteerism."
In their citation, the judges said, "A large number of excellent organisations have been developed through years of collaboration, celebration of success and great people. This is a town that had to establish itself, identify its own leaders and create its own community from a diverse range of people with no longstanding connection to the area. The support from the agencies and inclusivity is very obvious and the judges were really impressed with this large town which operates through the hard work of so many people as one large community."
Councillor Gerry Flynn, Cathaoirleach of Shannon Municipal District, commented, "On meeting the judges on the day, they were clearly impressed with what they saw in Shannon and I felt the town would do very well in this year's competition. The judges were particularly impressed by the Hastings Cottage project. Shannon is fortunate to have a very active community and voluntary sector and I would like to commend the joined up thinking and unified approach."
Nicola Killeen, Pride of Place Co-Coordinator, Clare County Council, said 2018 marks Clare's strongest ever performance in the annual Pride of Place Competition.
She continued, "Clare is fortunate to have many hard working community groups and organisations who give freely of their time due to a sense of devotion to their community and those around them. It is all about pride of place and promoting a strong community spirit has long-lasting, positive effects for an entire community. Clare County Council is delighted to have supported each of this year's four participating communities and looks forward to working with them to further enhance their areas in the future."
Pride of Place, described as the 'Oscars of the Community Sector', celebrates the often unsung work of community groups that selflessly work to make local neighbourhoods a better place to live in, work in or visit. Organised by Co-Operation Ireland and sponsored by IPB Insurance, the Pride of Place awards sees the country's local authorities, on both sides of the border, nominate outstanding projects that contribute to civic pride.
Clare has enjoyed considerable success in the competition during recent years with the villages of Cooraclare and Cree winning a 'Special Award' through CLG Cuan an Chláir's Health & Wellbeing Team in last year's competition. Previous successes include a first place award to Doonbeg Community Development in 2015, Killaloe and Tuamgraney's Runner-Up finishes in 2014 and Miltown Malbay's first place award in 2013. Clare County Council also won a special award in 2014 for its contribution to the competition since it was first established in 2003.
Page last reviewed: 20/11/18
Back to top
This is just for feedback on our web site, not comments or questions about our services.
To tell us about anything else, go to our contact us pages.