Ennis MD extends welcome as Summer 2021 promises unique experience
28 May 2021
Ennis Municipal District, Clare County Council, is delighted to welcome locals and visitors back into Ennis for business and for pleasure.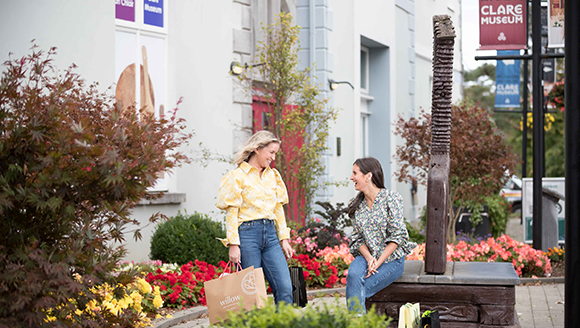 Summer 2021 in Ennis promises to be a unique experience for those who wish to explore the town, who love to shop, who want to catch up with friends, or the person who wants to 'grab and go', as well as those who wish to soak up the atmosphere in an outdoor dining setting.
This experience will be against a backdrop of enhanced streetscapes and a town centre which will offer a car-free zone, seven days a week until the end of August. Sunday road closures will come into effect from 30th May. Free car parking will continue to be available at the GAA/Cloister Car Park in addition to the many bicycle stands around the town. For those who wish to avail of the click and collect service this will be accommodated also.
From 7th June, Ennis's urban environment will be transformed with the launch of outdoor dining. Measures have been put in place for the safety and enjoyment of all the family in our public spaces. These include some evening road closures (Francis Street, Lower Parnell Street) to facilitate outdoor dining. Our streets are for more than just shopping; age-friendly seating has been installed for people to relax and we look forward to welcoming artists and performers back onto our laneways and bow-ways to add to the cultural vibrancy of our county town.
Page last reviewed: 28/05/21
Back to top
This is just for feedback on our web site, not comments or questions about our services.
To tell us about anything else, go to our contact us pages.