Excellence Through People awards
Clare County Council was initially accredited with the Excellence Through People (ETP) award by the National Standards Authority of Ireland (NSAI) in December 2002 and assessments to maintain the accreditation take place annually. In 2021 we maintained the gold standard certification. Clare County Council is one of a number of organisations from the private, public and SME sectors to become certified to world-class standards.
The Excellence Through People standard provides a business improvement model for organisations to "enhance performance and realise strategies through the management and development of their people", according to the National Standards Authority of Ireland NSAI. Clare County Council continues to embrace the concepts outlined in the Excellence Through People Scheme and continues to work consistently at developing it's HR systems, structures, values and culture towards a people focused environment for its staff.
"This is an independent assessment process with a rigorous evaluation. Achieving this certification speaks volumes and demonstrates Clare County Council's innovative and progressive culture. It shows by working together staff can achieve success and this collaborative effort has now resulted in this prestigious and sought-after Excellence Through People certificate." Monica Meehan, Senior Executive Officer,HR.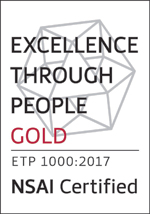 This is just for feedback on our web site, not comments or questions about our services.
To tell us about anything else, go to our contact us pages.