LECP (Local Economic and Community Plan)
The LECP (Local Economic and Community Plan), is a crucial plan designed to enhance the well-being and quality of life for everyone in County Clare. This includes not only the residents but also those who work, invest, or visit the area. The plan outlines the goals and actions for economic and community development within the county over a six-year period, taking into account the needs and aspirations of its diverse population.
The Local Economic and Community Plan 2023 - 2029
This new plan will shape the future development of Clare over the next six years, and we want your input and vision as to what Clare should look like.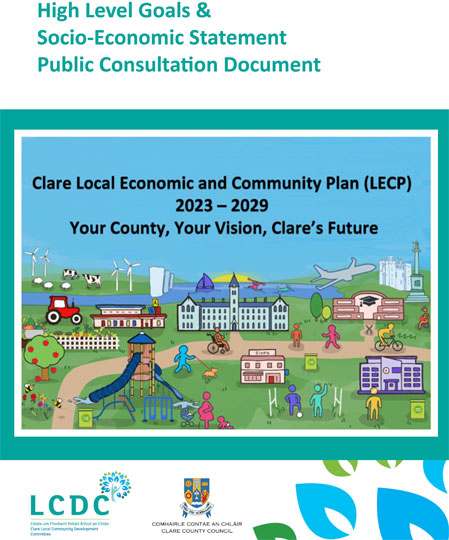 Clare Socio Economic Statement
The Clare Socio Economic Statement(External link) outlines what the process is about and aims to encourage the people of Clare to start the conversation on topics that affect everyone who lives and work in Clare and also those who visit the county.
We want to make it an even better place in which to live, work and visit by creating new opportunities, improving connectivity and access, between rural and urban areas, and by protecting and enhancing services in the community.
This document will explain:-
What is the LECP and how does it affect you?
What's involved in the process?
How it will be planned and delivered
The Socio-Economic position of the county at present.
The High-Level Goals & Objectives for your consideration

How you can have your say in how Clare will grow over the lifetime of the plan
Submissions or observations can be made during the public consultation period which will run from Monday 15th May 2023 until 5:00 p.m. Monday Friday 23rd June 2023.
Clare County Local Economic and Community Plan 2016 - 2021
The LECP for County Clare contains fourteen high level goals along with specific actions to drive economic, social and community development in the county over the next six years. The plan is aligned with relevant national, regional and local policies.The LECP was developed following extensive public consultation with key stakeholders, community groups, local businesses, voluntary organisations and state bodies. Many submissions were also received during the consultation period.
Following public consultation, high level goals and objectives were developed under relevant themes. This process then led to the identification of targeted and measurable actions which will result in positive economic and community development impacts over the 6 year period.
The LECP as a whole, into which both the economic and community elements are integrated, was adopted by the local authority in April, 2016 and submitted to the Minister in May 2016.
This is just for feedback on our web site, not comments or questions about our services.
To tell us about anything else, go to our contact us pages.