Community fire safety
There are 3 main strands to our community fire safety programme:
Every year the programme is delivered by specially trained fire service personnel from each brigade area to all third class pupils of each of the primary schools in Clare.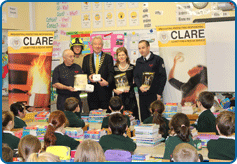 The information sessions form part of a nationwide programme entitled 'Safety Team' which is designed to teach third class children to educate their families about Fire Safety and about protecting homes and communities from fire.
The age at which a child receives a fire safety lesson is important. Research has shown that if the child is too young then he or she may not fully understand the message and, secondly, the child may become frightened. Children of 8 or 9 years old, third class students, were identified as being more open to messages of fire safety and were noted to be more willing to interact with their parents.   
Participating schoolchildren are expected, as part of their homework, to interact with their families on the elements of the programme. Each child is provided with a Home Safety Check Sheet, which must be filled out by a family member in the home. This completed Home Safety Check Sheet is evidence of the key fire safety message reaching inside the home. This interaction puts the problem and the solution together in the same place at the same time, making it more likely that any fire safety issues in the home will be successfully addressed.
Topics included in the programme are as follows: 
The dangers of fire and the importance of basic fire prevention – A Home Safety Check Sheet is given to each student.
The importance of owning a sufficient number of properly fitted and regularly tested fire detectors/ alarms.
The importance of a night-time safety routine check.
The importance of escape plans and regular rehearsals.
The correct actions to be taken in the event of a fire, 
 the correct procedure for calling the emergency services,
The dangers and consequences of hoax calls, and arson,
The importance of informing family and friends of this education.
This involves fire officers giving talks to various groups in the community about fire safety
The annual Fire Safety Week is held in autumn. It is organised on a national basis.
The following are samples of events in County Clare:
Newspaper advertisements
Radio talks
Information stands at various public venues.
This is just for feedback on our web site, not comments or questions about our services.
To tell us about anything else, go to our contact us pages.