'K.S.A.C' (Kinaesthetic scores and consciousness): An exhibition by artist Jackie McGrath
11 January 2023
Venue: The Clare Museum, Ennis, Co. Clare
Date: 10th January to 3rd February, 2023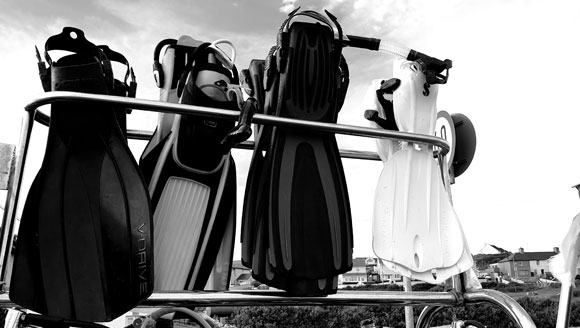 Clare Arts Office in conjunction with the Clare Museum is delighted to present 'K.S.A.C' (Kinaesthetic scores and consciousness), an amazing exhibition by artist Jackie McGrath.
Jackie is a socially engaged visual artist and her work deals with the embodiment and movement of ourselves and others within nature and our oceans. Jackie's intentions with her work are to create narratives through conversations and connections with her community of interest.
Jackie has a degree in Sculpture and Combined Media and an MA in Social Practice and the Creative Space. This project was created with Kilkee Sub Aqua Club, of which she is a member.
Jackie's work speaks of rituals and connections, of being immersed within nature and how it has transformed us, and it demonstrates how our landscapes have power over our perceptions of time and self. Her work portrays how, when we enter the sea, we experience a metamorphosis, we see and experience things differently, our sense of presence becomes overwhelming. Through Jackie's mediums of photography and drawing she draws the viewer into different worlds.
Jackie's exhibitions to date include:
Dive Ireland Show, Radisson Blu Hotel, Limerick, 2022
Cultúrlann Sweeney Gallery, Kilkee, 2022
Courthouse Gallery, Co. Waterford, 2021
Perspective (a peer led wellness centre), Co. Mayo, 2021
Limerick City and County Council Offices, Limerick, 2020
Merriman House, George's Quay, Limerick, 2019.
This exhibition is free of charge and runs from 10th January to 3rd February, 2023.
Page last reviewed: 11/01/23
Back to top
This is just for feedback on our web site, not comments or questions about our services.
To tell us about anything else, go to our contact us pages.