Applications open for Restart Grant for small businesses
22 May 2020
A Restart Grant, which will provide direct grant aid to micro and small businesses to help them with the costs associated with re-opening and re-employing workers following Covid-19 closures, has been agreed by Government.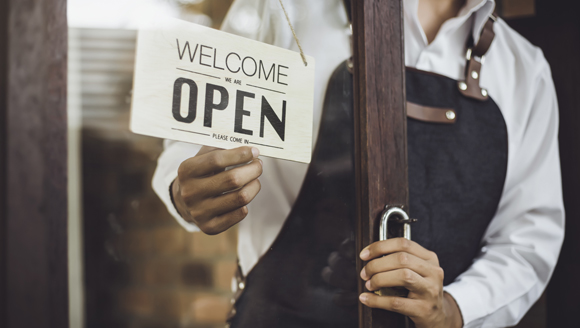 Clare County Council will facilitate the grant application process for applicants in County Clare in order to restart the local economy.
The grants will be equivalent to the rates bill of the business in 2019, with a minimum payment of €2,000 and a maximum payment of €10,000.
Qualifying criteria are as follows:
A business must have a turnover of less than €5m and have 50 or fewer employees
The business must have suffered a projected 25+ per cent loss in revenue from 1st April, 2020, to 30th June, 2020
The business must commit to remain open or to reopen if it was closed. The business must also declare the intention to retain employees that are benefitting from the Temporary Wage Subsidy Scheme (TWSS)
Businesses should retain supporting documentation as spot checks may be carried out to verify a declaration to this effect.
The Mayor of Clare, Cllr Clare Colleran Molloy, said: "Micro enterprises and small businesses are rightly acknowledged as being essential to the social fabric of our towns and villages. This Restart Grant is designed to help these businesses get back on their feet. I encourage eligible businesses that are due to reopen in accordance with the Roadmap for Reopening Society and Business to apply for this grant online through the designated portal on the Clare County Council website."
Allen Flynn, President, Ennis Chamber of Commerce, said: "Ennis Chamber welcomes the launch of the Restart Grant scheme. Aware of the acute need for small and medium sized businesses to access cash to pay towards the costs associated with re-opening and re-employing workers, we believe this grant will be very helpful. We are relieved that Clare County Council has been tasked with the administration of this grant, knowing they will process applications in a timely and efficient manner.
"Many of our members are facing into the toughest and most challenging business environment they have ever experienced and they need all the support they can get. In line with lobbying activities at a national level through Chambers Ireland, we will continue to seek further cash supports for our members, to help boost Ireland's economic recovery."
Applications for the Restart Grant can be made online from Friday, 22nd May. Processing of applications and payment of the Restart Grant will depend on the initial surge of applications but, as far as is feasible, will be prioritised according to scheduled re-opening dates in the national Roadmap for Reopening Society and Business.
View grant and apply online
Back to top
This is just for feedback on our web site, not comments or questions about our services.
To tell us about anything else, go to our contact us pages.